From 15 to 18 March 2022, CEPAG, Le Monde des possible and the Ville de Liège hosted a Mutual Learning Program (MLP) in the framework for the UnionMigrantNet & Cities Together for Integration project. In this MLP, partners from Belgium welcomed partners from Bulgaria and shared experiences, practices, measures, and instruments that are used in both countries.
Liège is known as "Ville hospitalières" – a city of migrants, with more than 50% of its population of foreign origin. Since 2017 is considered a "welcoming, responsible and open city", and has different measures that support the integration and welcoming of migrants in labour market.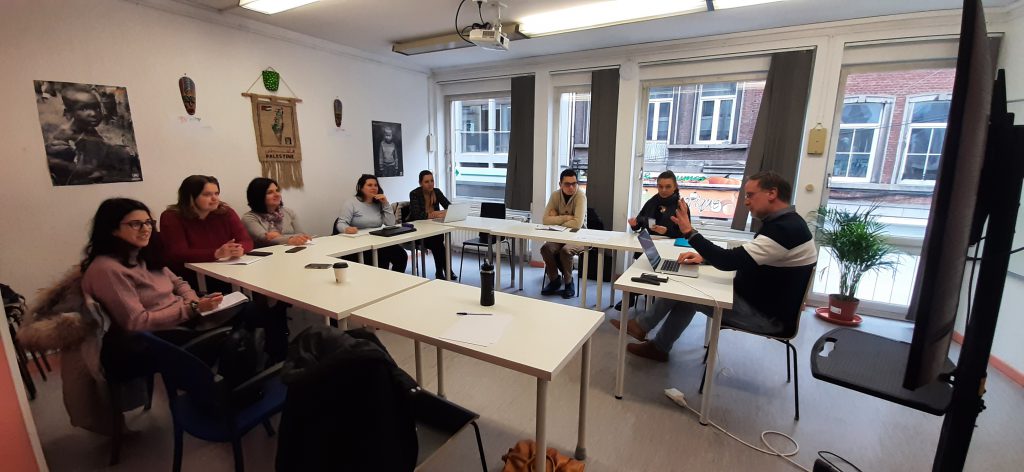 In this MLP, the partners of the UMN project from Belgium & Bulgaria have discussed issues like the inequality of opportunities for migrants and the need of better coordination between different organisations/associations that provides similar services.
It was also highlighted good practices that are implemented in both countries, like the establishment of integration centres and civic education trainings; and solutions set up in Liège that are different from the ones implemented in Bulgaria; for example, the main source of funding for the implementation of integration policies in Liège is on national/regional level, while in Sofia, most of the funding comes on European/regional/NGO level.
This Mutual Learning Programme is one of the 6 MLPs organised in the framework of the "UnionMigrantNet & Cities Together for Integration" project. The other MLPs are organised in Italy, Greece, Bulgaria, Slovenia and Poland.
The purpose of these MLPs is to improve UMN members and local authorities' services provided to migrants and refugees by the exchange of experiences and good practices, but also to develop instruments aimed at smoothing their integration in the labour market.